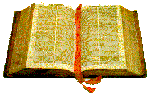 This Bible has been placed here for your convenience to look up any other supportive Scriptural references to aide you in this study.
---
Where To Look In The Bible
The Bible is God's Word -- His message to us. It contains His answers to the problems, questions, and dilemmas that are common to us all. But it's a big book -- and to many people it is very confusing. This keeps them from getting the help they need from the Word. So if you need spiritual help, or if you don't know where to look for familiar passages of Scripture, here is some assistance.
---
DIFFICULT SITUATIONS
In danger: Psalm 91; Luke 8:22-25
Depressed: Psalm 34; 139; Romans 8
Worried: Matthew 6:25-34; Philippians 4:6-9
In doubt: John 20:24-31; Hebrews 11
Facing a crisis: Deuteronomy 33:27; Psalm 121; Hebrews 4:16
Discouraged: Psalm 23; 42; Isaiah 40; Matthew 5:1-12
Afraid: Hebrews 12:1-2; Matthew 10:16-31; Deuteronomy 31:6
Tempted: Psalm 1; 1 Corinthians 10:12-13; James 4:7
Lonely: Psalm 27; Hebrews 13:5; 1 John 1:7
Lack assurance of salvation: Romans 8:16,38-39; 1 John 5:10-13; John 10:27-30
Want Forgiveness: Psalms 51; 130:3-4; Acts 13:38-39; 1 John 1:9
Desire comfort in troubling circumstances: John 16:33; 2 Corinthians 1:3-4; 12:9
Need courage to assume responsibility: Joshua 1
Facing death: John 14; 1 Corinthians 15:51-58; 2 Corinthians 5:1-8; Philippians 1:21-23
Wondering if God's Word is true: 2 Timothy 3:15-17; 2 Peter 1:19-21
---
GOD'S PLAN FOR SALVATION
All have sinned: Romans 3:10,23
Sin brings death: Romans 6:23
We cannot save ourselves: Ephesians 2:8-9
We have a Savior: John 20:31; Acts 4:12; Romans 5:8
We must come to Jesus: John 6:37; Matthew 11:28
We must personally trust Him as our Savior: John 1:12-13; Romans 10:9-10
---
GUIDELINES FOR CHRISTIAN LIVING
Read God's Word: 2 Timothy 3:14-17; 1 Peter 2:1
Pray: Matthew 6:6-13; 1 John 5:14-15
Guard your thoughts and actions: Philippians 4:8-9
Relate properly to others: Romans 12:9-21
Help those around you: Galations 6:10
---
WELL-KNOWN EVENTS
(in approximate order of occurrence)
MIRACLES OF JESUS
(in biblical order)
PARABLES OF JESUS
(in alphabetical order)
TEACHINGS OF JESUS
(in alphabetical order)
---
SPIRITUAL DEVOTION / CHRISTIAN BIBLE LINKS
Bible Study Links
A Bible Study Web Page - Resources for study
Bible Study - Resources on the Web
The Biblical Studies Foundation -
Genesis Bible Study
Bible Study for Kids
Keys For Kids
Bible Searches
Bible Gateway - Bible Search Engine in various languages and translations
Christian Search Engine & Directory - Global online service helping evangelize nations
Christian Directories
Christian Internet Directory
Not Just Bibles - Christian resources on the net
Christian Media Links
Campus Journal
Day of Discovery - television
Discovery House Publishers
Discovery Series Booklets -
Reasons To Believe - brochures
Scrolls From The Dead Sea - The Ancient Library of Qumran and Modern Scholarship
Times of Discovery - newsletter
Christian Organizations
Promise Keepers - Men of integrity
Devotional Material
Our Daily Bread - For Personal and Family Devotion
Minister References
Sunday School & Church Growth Page - Josh Hunt
Prayer Links
E-Prayer - Free Internet service ministering to the Body of Christ

Reverend Fun - Cartoons

Back to my home page...